The Ugly Truth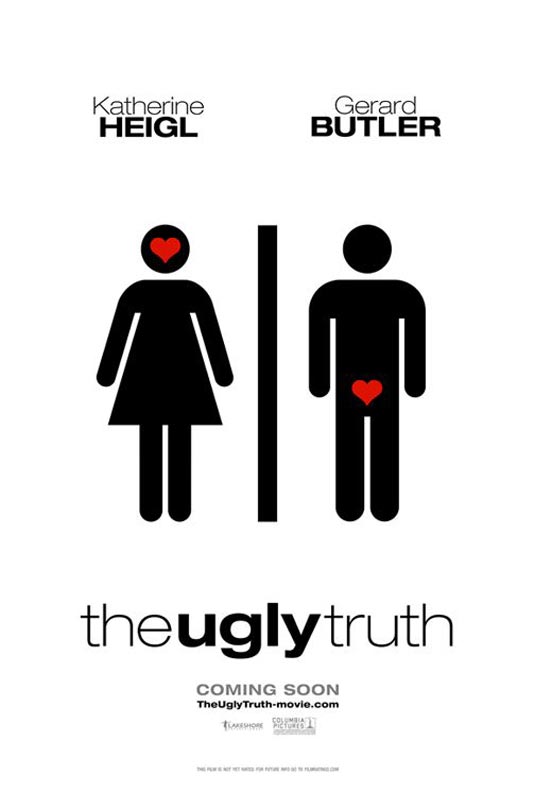 When I noticed today that The Ugly Truth had beaten out G.I. Joe for UK's top box office spot (looks like the Global Joe bet didn't pay off – see prior review), I decided to give Robert Luketic's pseudo chick-flick (or is it?) a try.
Katherine Heigl, whose claim-to-fame is Apatow's Knocked Up, plays an "in-control" TV producer, Abby, for a morning news show (cue toolish hosts, fat weatherman, and cooking tips). The problem is that Abby seems to be having trouble with ratings for the news station almost as much as she has trouble finding a man.
The problem is that Abby seems to be having trouble with ratings for the news station almost as much as she has trouble finding a man. Now, I had to suspend some disbelief as Heigl is absolutely gorgeous; I'm sure some men would even sit through her reviewing their profiles, citing background checks, and checking her list of ten ideals in a man. By the way, Heigl's performance truly comes off naturally and amusing whether she's doing one of her victory dances, yelling for help while dangling from a tree in just her undergarments, or having a public display of pleasure in a restaurant – a scene which gives "When Harry Met Sally" a run for its money.
To counter the ratings slump, Abby's (Heigl) boss hires the host of "The Ugly Truth", Mike (Gerard Butler), whose unshaven ruggedness is almost as coarse as his misogynistic and basal relationship advice (men aren't aliens from Mars…they're apes from the jungle who act on their infatuations of lust, desire, and sex). Granted, Mike would probably be brought in on sexual harrassment charges in today's modern work environment but the network needs him; in turn, Mike boosts ratings (even the female viewership approves) and rekindles the passion of the news show's anchors (perfectly casted and played by Cheryl Hines and John Michael Higgins) while frolicking in jello with scantily clad beauties and showing video of primates mating during his advice segments.
Abby finds Mike as nothing more than the "lowest common denominator" of man with no class and incapable of love. Mike finds Abby as nothing more than a neurotic, control-freak
with no confidence in her femininity. And here comes a predictable (yet fun) romantic comedy plot:
Mike agrees to teach Abby what a man wants from push-up bras, to hair extensions, to not controlling the situation so she can win over a guy instead of just daydreaming of finding the ideal man with a symmetrical face and a moral compass (a point many lib critics took issue with i.e. "why can't Abby just be single and sexually confident"). Mike repulses Abby; Abby despises Mike. Mike agrees to quit if he can't get Abby's neighbor, a doctor, to fall for her. A friendship ensues between Mike and Abby during the process…the burly and leathery Mike wants to be a respectable father-figure for his nephew and is revealed to have a wounded heart…feelings develop…and…
Yet, The Ugly Truth is not the expected and standard romantic comedy. It takes risks that How to Lose a Guy in Ten Days never did or could have. Robert Luketic (also directed Legally Blonde) creates a film that appeals to both the Superbad crowd and the P.S. – I Love You crowd. Put in some incessant penis and sex banter, cast the rugged Butler for a lead role (you can just picture him screaming "Madness? This is my bedroom!!!"), slap an R-rating on it and guys are enthusiastically going to the theater with their girls. This hybrid of the male-focused comedy like The Hangover with the female-focused romantic comedy, though rough in the mixture at times, actually comes off in the end as a sexy, fun, summery piece, which isn't as shallow as we might expect.
After watching the film, I found one of my better halves belittling me for "discussing a chick flick" upon texting her a couple thoughts about the film. And that's when I realized I had been duped! I had engrossed myself and thoroughly enjoyed a chick flick in disguise!
Kirsten Smith, Nocle Eastman, and Karen Lutz (the three female – yes, female – writers)  produced a script that has its fleeting and shallow moments of amusement; yet, in the end, the girl doesn't simply degrade herself by falling for the lowest common denominator instead of the ideal doctor. Love blossoms where once thought it couldn't and respectful reality sets in. So after vibrating panties are donned and caviar is spat out when the guy's not looking, the hair extensions come off and Abby realizes that you can't deceive yourself by being who you're not to get the guy you want.
So see the film at some point – I recommend waiting for it to come out on DVD and blue-ray. Maybe for once the guy will sit down with his girl and actually enjoy "movie night" instead of just wondering when it will be over and the sex begins. And that my friends is the ugly truth.