G.I. Joe – The Rise of Cobra
When I first heard that G.I. Joe was going to be made into a live-action film, a shot of childhood nostalgia encompassed my entire being as I drifted off pondering the Hollywood incarnations of laughing gas balloons, a WWF-inspired Sergeant Savage, a traumatically deranged and emotionally disturbed Cobra Commander, and kick-ass, flag-waving "real American heroes". Heck, I thought, maybe there will even be a cheesy public service announcement during the credits roll: "remember kids, never yell fire in a crowded theater…and knowing is half the battle."
But then I realized, that was then; this is now. I immediately conceded the hope of Hollywood unabashedly lauding a little American patriotism in a film. As expected, G.I. Joe no longer is a "real American hero" but rather embodies something like an elite world-wide police force – Team America on a global scale except the writers weren't trying to produce such a painfully, catch-phrased, one-liner script ("haystack in a coal mine").
Still, I'm sort of an international man and I wasn't going to be the type to boycott the film just because it doesn't have an "Uhmerican" stamp of approval. I remember hearing some of my right-leaning friends, jealous in their nostalgia and zealous in their nationalism, condemn the new G.I. Joe as the "A-Team for the UN". In my opinion, if the UN's forces were half as effective and fervid as the new G.I. Joe, then maybe it could actually make a difference in the world and instead of passing a resolution actually kick some ass when some bastard tries his hand at genocide.
Politics aside, the bastardization of G.I. Joe is, in all honesty, disheartening. The plot had already written itself in the old T.V. series for Paramount to use. Yet, I guess the studio suits thought if they could dumb down G.I. Joe into a simple good guy versus bad guy plot with no deeper sig
nificance, add some mediocre CGI, and blow a bunch of shit up, they could fill their coffers ("Transformers 2 did it!").
Well, if this is what Paramount had planned, then they'll probably succeed. There's a reason most moviegoers shun en masse the dramatically touching films that most critics hail as divine, while expressing a sincere, dumbfounded surprise that such works can't make a buck. Reading Manohla Dargis' review of G.I. Joe over at the New York Times reminds me why we think reviewers don't have real jobs, "get off" by criticizing everything, and ignorantly write out of their cultural elitism.
Dargis probably never saw or will see the original G.I. Joe. She compares Channing Tatum's Duke to a "gung-ho John Wayne"; she finds the movie as too "flag waving" for her tastes. Yes, I can't believe the film dared to show a flag on top of the White House or on a table at a send-off for American troops. And, Channing Tatum is John Wayne? Correct me if I'm wrong but didn't Tatum almost turn down the role as Duke because he's an outspoken anti-war advocate? Now, I must agree with Dargis that I found the scene of mass devastation in Paris – "the epicenter of contemporary evil" (cue liberal haughtiness) – as notable not because it makes the flag-waving "purely pro forma" but because it was G.I. Joe saving Paris and not destroying it. 🙂
As an aside, I apologize for the direct attack on the New York Times. The paper is a truly respectable news source when you need to dumb down your IQ a bit with reporting which puts facts on the side of tabloid news. For the record, I  recommend The Economist and the Wall Street Journal as rational alternatives.
All joking done with, Dargis' review is an archetype of many today and why we often say "who gives a shit", while the critics, in turn, dumbfoundedly question why we go see a popcorn-candy thriller. Now, let's truly consider the movie on its merits.
G.I. Joe is an alright film – worth seeing at the theater. It has all the ingredients for a summer, fun flick leaving the audience full of cheesy dialogue, CGI explosions, massive collateral damage,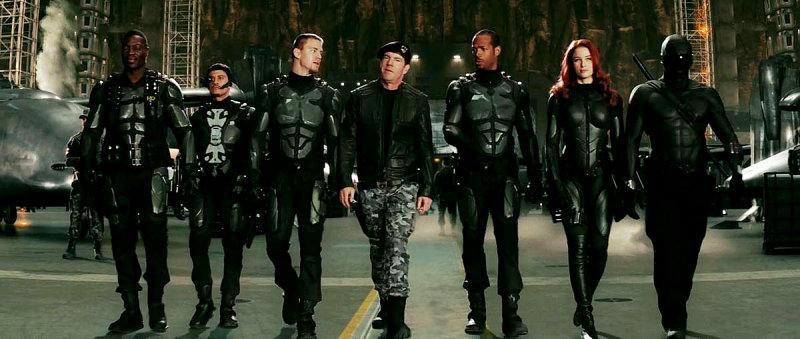 and a slow-motion, badass walk by the good guys. Discarding most plot points or even offshoots of the original G.I. Joe, the writers opted for what they thought was plot depth by concocting a disarranged and predictable storyline jumping back-and-forth to scenes of action and historical context.
The G.I. Joe cast comes from an eclectic background with the always reliable and no-nonsense Dennis Quaid as General Hawk, the Shakespearian Jonathan Pryce as the U.S. President, the TV-star Rachel Nichols as Scarlett, and the "comedian" Marlon Wayans as Ripcord; Rex, Duke, and the Countess all have independent roots (Joseph Gordon-Levitt, Channing Tatum, and Sienna Miller). The acting comes as the best it can with the provided script. But, do we really go see G.I. Joe for the academy-award winning performances? No. Sienna Miller is hot. That's what matters to the "average Joe" in the audience.

If the uncredited cameo by Brendan Fraser as Sergeant Stone didn't give away that the "Mummy" Stephen Sommers was directing (also Arnold Vosloo as Zartan),
then hopefully the continual use of cheap CGI and unimpressive action should have. In all honesty though, Sommers' work has been quite excellent in the past – I thoroughly enjoyed "The Mummy". I just figured that Sommers would be able to use CGI technology that isn't from 1999 by now.
The other problem Sommers has is that he often overrides impressive bouts of action by his actors with his CGI use. For example, while animated, combat submarines blow the crap out of each
other and an animated jet tries to shoot down animated missiles, Sommers intertwines a commendable fight scene between Snake Eyes and Storm Shadow with everything else going on. Both Byung-hun Lee (Storm Shadow) and Ray Park (Snake Eyes) truly work well with each other in their timing and choreography. Park, who doesn't have a line of dialogue in the film, has established himself as one of the best stuntmen and martial artists in the industry. From his beginnings in Mortal Kombat: Annihilation, to playing Sith Lord Darth Maul in Star Wars: Episode I, to his role in G.I. Joe, I look forward to seeing Park's performances in the future (Mandalay Pictures has cast him as Rugal Bernstein in their upcoming King of Fighters remake).
At the end of the day, Sommers often shoots himself in the foot. He puts out a decent, enjoyable film (like The Mummy) and then follows it up with reaching and lacking sequels that seem endless. With the ending of G.I. Joe ushering in an apparent sequel and as Paramount has signed Quaid as General Hawk for at least two more sequels, let's hope Sommers breaks his "Mummy" curse and produces entertaining and worthy sequels for the G.I. Joe namesake.